Guideline Practitioner Guides
Guideline practitioner guides are condensed, user-friendly versions of Academy of Nutrition and Dietetics Evidence-based Nutrition Practice Guidelines. The practitioner guides are 1–2 page documents, with clear and unambiguous language that may help practitioners and their patients/clients to actively participate in shared decision making for their nutrition care.
One component of the practitioner guides are the "Available Evidence" and "Expert Confidence" ratings. The purpose of the rating scale is to provide easy to understand graphics that communicate the level of available science, and experts' level of confidence in the guideline recommendations. The rating system has been adapted from the Patient Activated Learning System (PALS) within the Weill Cornell Medicine organization (palsforhealth.com). PAL ratings in the Academy of Nutrition and Dietetics Guideline Practitioner Guides are translated from the GRADE and Academy recommendation rating process. Conversion of the rating system can be found in the table below.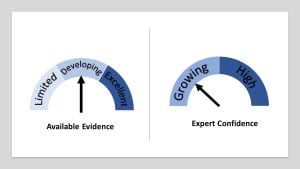 | | | | |
| --- | --- | --- | --- |
| Systematic Review Rating Quality of Evidence* | Available Evidence | Guideline Recommendation Strength Rating* | Expert Confidence |
| A | Excellent | Level 1 (recommend) | High |
| B | Developing | Level 1 / Level 2 (suggest) | Growing / High |
| C | Limited | Level 2 (suggest) | Growing |
| D | Limited | Level 2 (suggest) | Growing |
For additional information on the Academy Systematic Review and Guideline rating process visit: recommendation rating,