EE: Flowchart for Using Indirect Calorimetry (2006)
Flowchart for Obtaining, Interpreting and Reassessing the RMR Value
The reasons to estimate or measure RMR vary among patients/clients and the decision-making process requires sound clinical judgment. Factors in estimating or measuring RMR include:
the degree to which RMR impacts the primary outcome (e.g. trauma patient receiving enteral nutrition versus a client of appropriate body weight with elevated cholesterol),
the patient/client's ethnicity
age
ability to tolerate and comply with indirect calorimetry measurement
Another consideration is that practitioners may not have access to or the training needed for indirect calorimetry. Therefore, step one is to determine if the RMR should be estimated or measured. Because unexpected RMR results can occur, step two is to use critical thinking skills to evaluate the RMR. Step three is to determine when the RMR should be re-evaluated.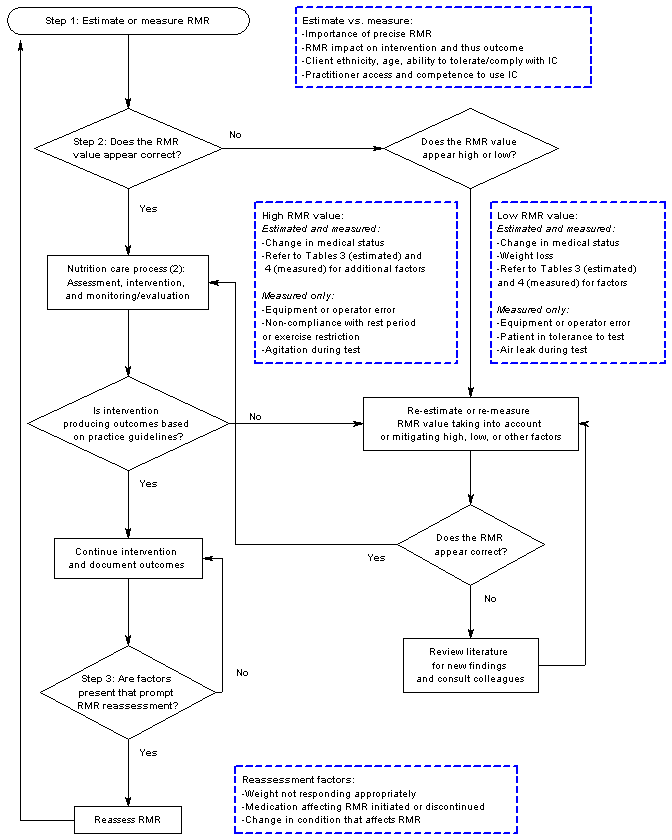 ---